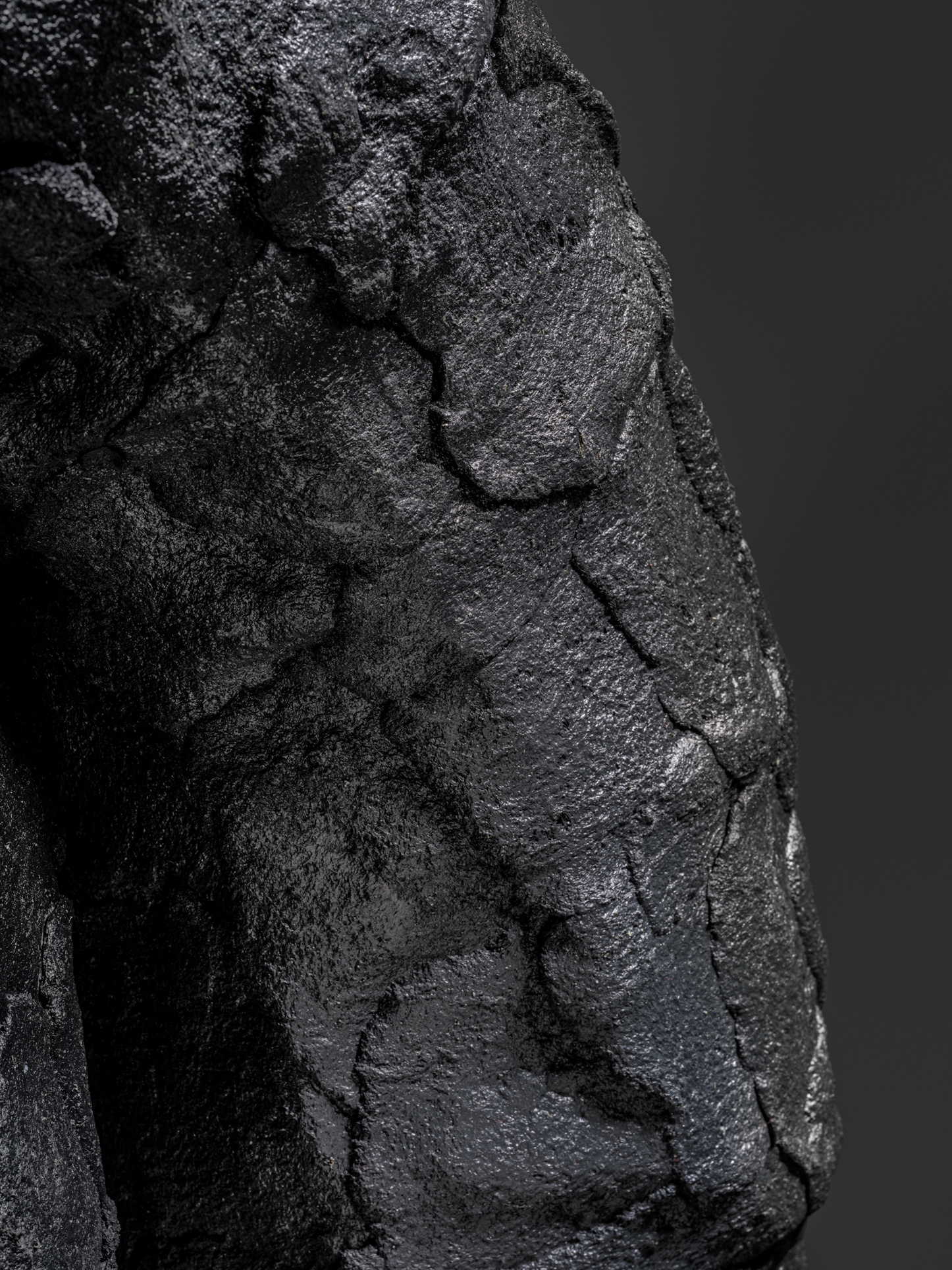 BRINEKI NABINRAW / INVISIBLE WOUND
For the group show Plastic Crush in Tropenmuseum Amsterdam, Kurdish artist Hozan Zangana chose to enlarge one of the miniature sculptures from his Sinjar project, which he had just completed in the Spring of 2022. Drawing on personal experience, having fled Iraq at the age of fifteen, Hozan Zangana created a series of sculptures as a tribute to the Yazidis, who in 2014 sought refuge in the Sinjar Mountains in a desperate attempt to escape genocide by ISIS.
The sculpture embodies the load of the baggage carried by refugees. Not only the physical load of personal belongings and necessities taken on the run, but also one's identity and culture. Which becomes part of the 'burden' when this identity is the cause for one's forced abandon from the home grounds it is so deeply rooted in. An immaterial burden, but one of greatest value. The weight of it is generally not understood – let alone valued - by those who are fortunate enough never to have had to experience what it is like to have to flee for one's life. This incomprehension and the systemic rejection and dehumanisation that refugees face, after all the unspeakable violence and hardship they had to endure, deepens their trauma. This is what they will be carrying for the rest of their lives: an invisible wound.
BRINEKI NABINRAW / INVISIBLE WOUND is moulded from a material new to Hozan Zangana: recycled plastic. For those in the world of today who have the luxury to concern themselves with environmental issues, plastic represents just about the opposite of what it promised: 'plastic fantastic' became a health hazard of epic proportions. For Yazidis on the run, as for many living in lesser affluent conditions, a plastic container carrying drinking water is a lifesaver. Here in the West, this choice of material – Hozan Zangana worked with Save Plastics, a pilot factory in The Netherlands specialised in recycling low value plastics – forms a painful association with the poor status of refugees as they are so often treated as human waste. Plastic waste can be a valuable raw material for recycling; in the hands of Hozan Zangana it addresses how we value fellow human beings.
The sculpture BRINEKI NABINRAW / INVISIBLE WOUND can be seen in the exhibition Plastic Crush at the Tropenmuseum in Amsterdam from 22 November 2022. It will also be on display at the Wereldmuseum in Rotterdam, among other places.
Text
Mo Veld
Material sponsoring
Save plastics
Special thanks to
Wahhab Hassoo, Luuk Disveld, Sarah Johnson, Sambhram Changavi, Stef Bakker, Lana Zangana, Jeroen Van Erp, Caspar Berger, Arno Hoogland, Niloufar Zangana, Stefan Schoegje, Liam Wolf